One of the oldest trail of Nepal that was opened for trekking is the Everest Base Camp trek. This route sees thousands of mountaineers and trekkers who walk over it in hopes of creating a mark for themselves.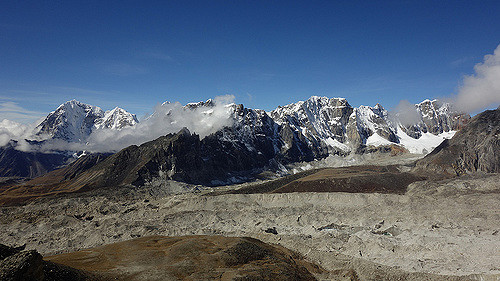 The destination is the base camp of the highest peak in the world. Mt. Everest. It is the closest you can get to the mighty mountain on a trek. You will also get a Glimpse of several other peaks along your way. Mt.Everest (8848m), you will also see , Mt Lhotse (8516m), Mt. Nuptse  (7855m), Mt. Pumori (7161m), Mt. Changaste (7550m), Mt. Lingterin (6679m), Mt. Amadablam (6856m), Mt. Thamserku(6723m), Mt. Kantega( 6685m), Mt.Kusum Khagaru (6367m), Mt.Kongde (6011m), Mt. Khumbila(5761m) , Mt. Twache peak (6367m), Mt. Cholaste (6335m) ,Island peak(6179m), Lobuche peak(6145m), Pokalde peak (5806m), Honku south peak (6119m) and many more.
The trek is situated in the Everest region which is known for its diversity in landscapes. The journey is through some of the most beautiful sites of nature. You will come across rhododendron forests, Bamboo forests, graceful waterfalls, beautiful rivers, glacier lakes, high passes, and beautiful rural settlements. The highlight of the trek is Kala Pathar which offers you the best view of Mt. Everest.
The Everest region also has the Sagarmatha National Park which is listed under UNESCO world heritage site. The conserved area has diverse range of flora and fauna. Some of the most beautiful and the rarest species also live in this national park. A walk through the park might as well get you a confrontation with some of the wildlife inhabitants.
Most of the people living in the region belong to the Sherpa community. The Sherpa people are known for their hospitality. They are very friendly and open-minded. Even the women are highly approachable. You needs will be tended with care by them.
There are two ways in which you can trek to EBC. The shortcut route starts with a flight from Kathmandu to Lukla. The other route is the longer one where in you will be trekking your way up to Namche Bazaar.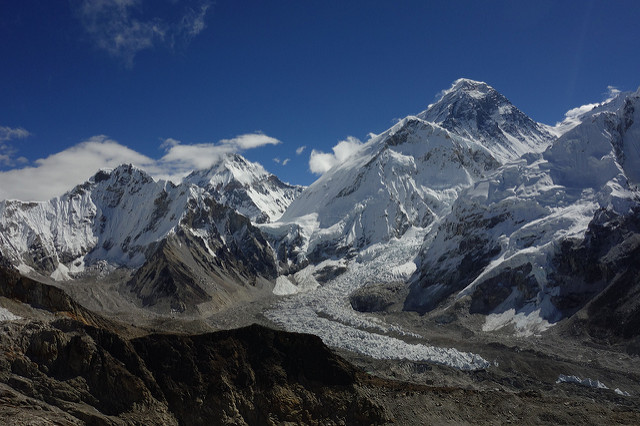 The shortcut route can be trekked in two ways. One is the most commonly taken route which is as follows:
Day 1:             Fly to Lukla (2804 mt.) from Kathmandu, trek to Phakding (2610 mt.)
Day 2:             Trek from Phakding to Namche Bazaar (3441 mt.)
Day 3:              Acclimatization day in Namche Bazar
Day 4:              Trek from Namche Bazar to Tengboche(3860 mt.)
Day 5:              Trek from Tengboche to Dingboche (4410 mt.)
Day 6:              Acclimatization day at Dingboche
Day 7:              Trek from Dingboche to Lobuche (4910 mt.)
Day 8:              Trek from Lobuche to Gorakshep (5153 mt.) to EBC and back to Gorakshep
Day 9:              Hike up to Kala patthar (5545 mt.) and retreat trek to Pheriche (4210 mt.)
Day 12:           Trek from Namche Bazar to Lukla
Day 13:           Early morning fly back to Kathmandu
The other way to trek to EBC is known as the Luxurious route wherein, instead of walking your way back the same route to Namche Bazaar, you will take a Helicopter flight from Gorak Shep to Kathmandu.
Yet another luxurious trek to EBC is one wherein you will take the same route but instead of tea houses, you will eat and spend your night in luxury hotels and resorts.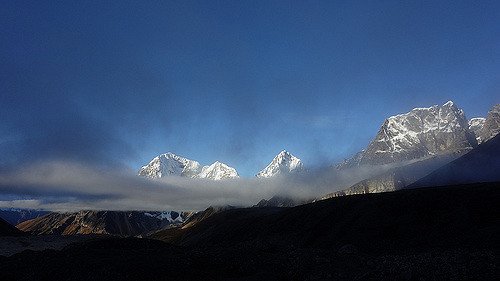 Conclusion
Everest Base Camp is every adventurer's dream. What could be more thrilling than walking to the base camp of the highest peak in the world. And along with the view of the mountains, you are getting to explore various landscapes and learn from unique culture. There is absolutely nothing to lose in this trek but only gain.