Due to its gorgeous beaches and breathtaking scenery, Bali is a tourist haven for many travellers around the world. From serene locations to adventure water sports, Bali provides numerous possibilities to enjoy an ideal vacation. Travellers love Bali not only for its peaceful environment but also for its fascinating Balinese culture. If you are visiting, these are the ten most famous things you can enjoy in this wonderful place. Explore and enjoy this wonderful destination with friends and family and create the best memories with your loved ones.
1. Explore the Udub Royal Palace
Commonly referred to as "Puri Saren Agung," the Ubud royal palace is one of the main historical structures in Bali. The palace was constructed in the 1800s by Lord Tjokorda Putu Kande, and for centuries the palace has served as a home to Ubud's royal family. While visiting this palace, you can witness several traditional Balinese architectural designs and sculptures. At evenings, the palace looks vibrant and lively with Balinese dancers performing the Legong dance and Barong dance. Explore the palace as part of your Bali tour package and learn about the fascinating Ubud culture and tradition.
2. Sunset at Tanah Lot Temple
Built during the 16th century, Tanah Lot Temple is one of the seven sea temples in Bali. Due to its strong Balinese cultural heritage, the temple has become Bali's significant cultural landmark. It is a famous location in Bali that is renowned for its stunning sunset views and photo opportunities. Surrounded by beautiful seascapes, this temple is one of the best places in Bali to witness the glorious sunset view. So, plan your trip to Tanah Lot temple and take in the stunning sunset view from the temple.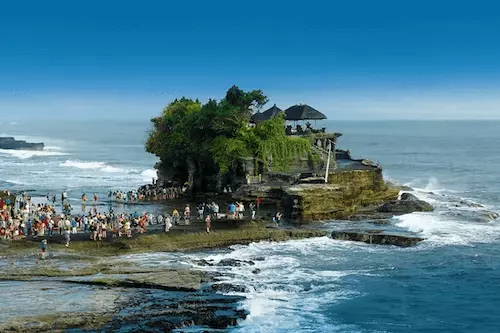 Image Credits: Unsplash
3. Trekking to Mount Batur
With its picturesque landscapes and alluring beauty, Mount Batur is a haven for trekkers and mountaineers. This place is one of the famous tourist attractions in Bali, offering the most scenic and relaxing ambience. Reach the trek's starting point early in the morning and engage in a two-hour trekking. On reaching the summit, you can witness the glorious sunrise view, offering the best background for taking amazing photos on your Bali trip. For a great trekking experience, visit this place between April and October, when the climate is ideal to enjoy scenic views from the peak.
4. Shopping at Ubud Art Market
Are you looking for a special location to enjoy a great shopping experience in Bali? If yes, the Ubud Art Market is an interesting place to visit on your Bali tour package. Located in the centre of Ubud, this art market features a wide range of shopping products, including paintings, bags, clothes, gifts, accessories, and souvenirs. Most of the products in this market are handcrafted, so you can purchase a variety of handmade souvenirs and gifts. Due to its vibrant and enjoyable atmosphere, you will have the best time here whether you are shopping or not.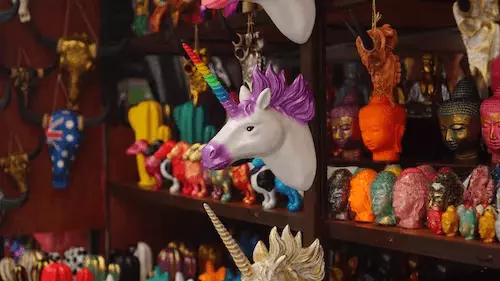 Image Credits: Unsplash
5. Surfing at Padang Padang Beach
For surfers who are looking for the best spot in Bali, Padang Padang is the place to visit. Because of its strong tidal waves, this place serves as one of the major tourist spots for surfing. Visit this place during the dry season, especially between June and September, to enjoy the ideal climate for surfing. Also, the beach's distinctive rock entrance allows for excellent photo opportunities. Come and visit this place to enjoy the most exhilarating surfing experience in Bali.
6. Tegallalang Rice Terrace Swings
If you want to enjoy the most stunning natural ambience in Bali, then you should certainly visit the Tegallalang Rice Terrace. Situated on the cliffs of Tegallalang town, this place features two swing locations, one of which is located high up overlooking lush green paddy fields and the other is just located near the road. This place is the best place to visit in Bali where you can enjoy the beautiful natural surroundings while enjoying the thrilling swing ride. Visit this location between the months of March and October to enjoy the best experience. Visit this place and enjoy taking stunning photographs in this beautiful location.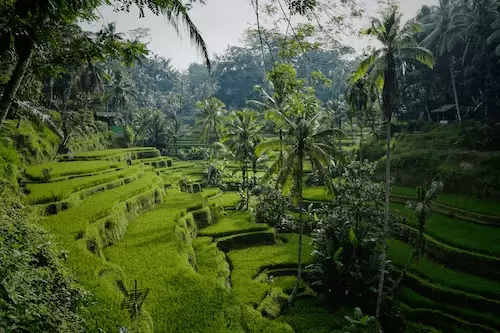 Image Credits: Unsplash
7. Take amazing photos at the Bali Handara gate
Bali Handara Gate has become one of the most instagrammable tourist destinations in Bali. Many tourists, particularly photographers, visit this place to take photos of the stunning natural surroundings. The place offers a subtle and elegant environment for you to unwind and enjoy Bali's natural ambience. Couples who are on their honeymoon trip to Bali can visit this place to take romantic pictures with their loved ones. To enjoy the ideal climate and the great exposure, visit this place in the evening hours. Visit this beautiful place with your loved ones and enjoy a fun time capturing amazing photographs.
8. Sunset Dinner Cruise in Nusa Dua
For couples who are on their honeymoon to Bali, a sunset dinner cruise is one of the unmissable activities to enjoy on your Bali trip. Catch the beautiful sunset view while enjoying the most appetising Balinese cuisine on your cruise journey. This cruise offers the perfect opportunity for you to sit and relax with loved ones on the open deck area while enjoying the beautiful natural setting of Nusa Dua. This sunset cruise is also entertaining for its vibrant music and dance performances. Take your partner on this exclusive cruise trip and enjoy the most relaxing and romantic vacation in Bali.
9. Snorkeling at Tanjung Benoa beach
For beach enthusiasts, visiting Bali's Tanjung Benoa Beach is a wonderful vacation experience, offering a broad variety of exciting beach activities and breathtaking natural vistas. With its beautiful white sand and crystal clear waters, snorkelling at Tanjung Benoa beach is the best thing to experience in Bali. Apart from snorkelling, the place is also best suited for banana boat rides, jet skiing, parasailing, and scuba diving. The beach is open to the public 24/7, but if you want to enjoy the exciting water sports, you have to visit this place between 9 a.m. and 4 p.m. To enjoy the most nerve-wracking experience in Bali, visit Tanjung Benoa beach and have a great time.
10. Spiritual exercise at Tirta Empul Temple
Tirta Empul Temple is regarded as one of the National Heritage Sites. It is a great place in Bali to visit with your family for spiritual exercise. This temple is located in Manukaya village and is frequently visited by many worshipers who come here on their spiritual journey. The main attraction of this Balinese temple is the bathing pavilion, where devotees go for ritual cleaning. On your visit to this place, witness the stunning architectural designs and beautiful statues in this temple. Surrounded by quiet and natural surroundings, this place is great to enjoy a peaceful vacation with your family.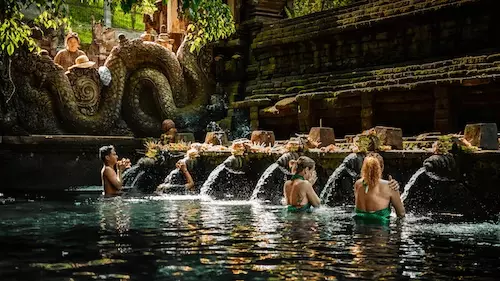 Image Credits: Unsplash
Bali is undoubtedly a great fascination for entertainment and tourism. With its most alluring surroundings, Bali is the best tourist spot for travellers. Choose your favourite Bali holiday packages at Pickyourtrail and get ready for an enjoyable trip to Bali.