It´s just a privilege to go out there and discover the greatness of nature, but this time the adventure went above and beyond. We went to swim with the biggest fish of the world, the whale shark.
On our vacations in the Riviera Maya during the season of Mid April to Mid September the Whale Shark Biosphere in Mexico is open to get to swim with these amazing creatures. Whale watching is on.
The experience is more than amazing, from the moment that you get in the boat the scenery of the Caribbean Sea is great, blue and Tourquoise waters surround us, while we were on the boat, we got to see dolphins jumping and little dark dots, merged on the Tourquoise water that are the turtles that get to shore to lay their eggs in these beautiful white sand beaches.
The boat safari is great, the staff was always there to help us out, they gave us all the equipment necessary, mask, snorkel and life jacket, although we rented wetsuits, that for $15 dollars, was totally worth it, because that protect us from sunburn and we did not have to use the lifejacket while we were in the water, which allows us to swim faster without getting the annoying rash from the life vest.
Our company was Riviera Maya Tourquoise, which is a well known company in the Riviera Maya for the great and welcoming staff, they totally made our life super simple, the traditional food and beverages were offered while we were on the boat, the captain Juan, was great, he seems to know this place like the palm of his hand and well he said that today was a really awesome day, lots of whale sharks around and really calm and clear waters.
But lets get into details about the actual snorkeling with this amazing creatures.
Our Staff Mac and Tomas, let us know what would be the procedure before we jump, after all we were a group of 10 people. Mac, organized us in couples in order to jump, we were sitting on the starboard side of the boat waiting for the captain to count 1, 2, 3 … our other guide Tomas was next to us ready to jump too while he was taking pictures of the experience.
Finally we saw a massive whale shark coming straight to us, when I said Massive I mean it, a 30 feet long whale shark was coming and then the captain said 3, my wife and I jump, totally overwhelmed our heads came out of the water splashing, and start swimming next to Tomas, he actually hold our hands to help us out reach as fast as possible to the moving creature that was coming up to us, Tomas, set us in a position really close to the whale shark, around like 5m (15 ft) and we start swimming next to it, admiring it, and at the same time my mind couldn't believe it what it was happening, this animal is so big!!!, so beautiful !! and so amazing !!! gosh I´m the luckiest person in the world, I thought. I kept swimming next to my wife and Tomas, trying to keep up speed to stay as close and as long as possible next to the whale shark, but then it happened!!!….. The whale shark turns around and another whale shark appears just in front of us, we just can´t believe this…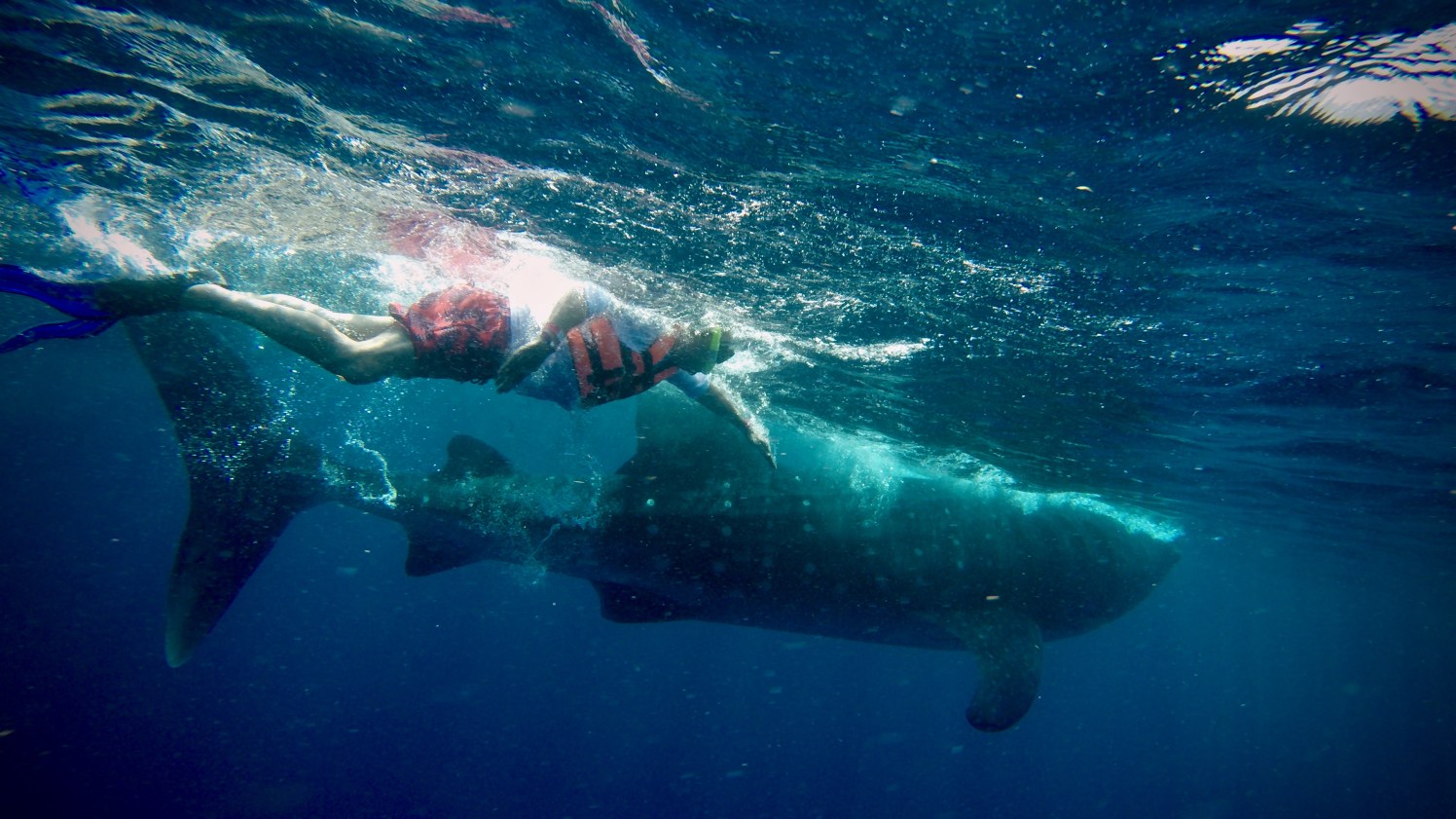 Tomas, hold our hand and made the sign to follow this second whale shark, we start following this second creature, and I could start noticing the details on it´s skin, the white dots, the tiny little eyes, and the awesome back and tail fins, suddenly when we thought that this was over, another whale shark appears just underneath us, maybe like 30 feet under us, Tomas grab us again, It seems to be that the whale shark was going to reach the surface, so we start following this third shark, but the most amazing thing was seeing it  from the top and all the way until it actually reach the surface and opened the massive mouth to start filtering the plancton of the surface.
Then suddenly we were there, we stop swimming, and now just contemplating .. why is this?,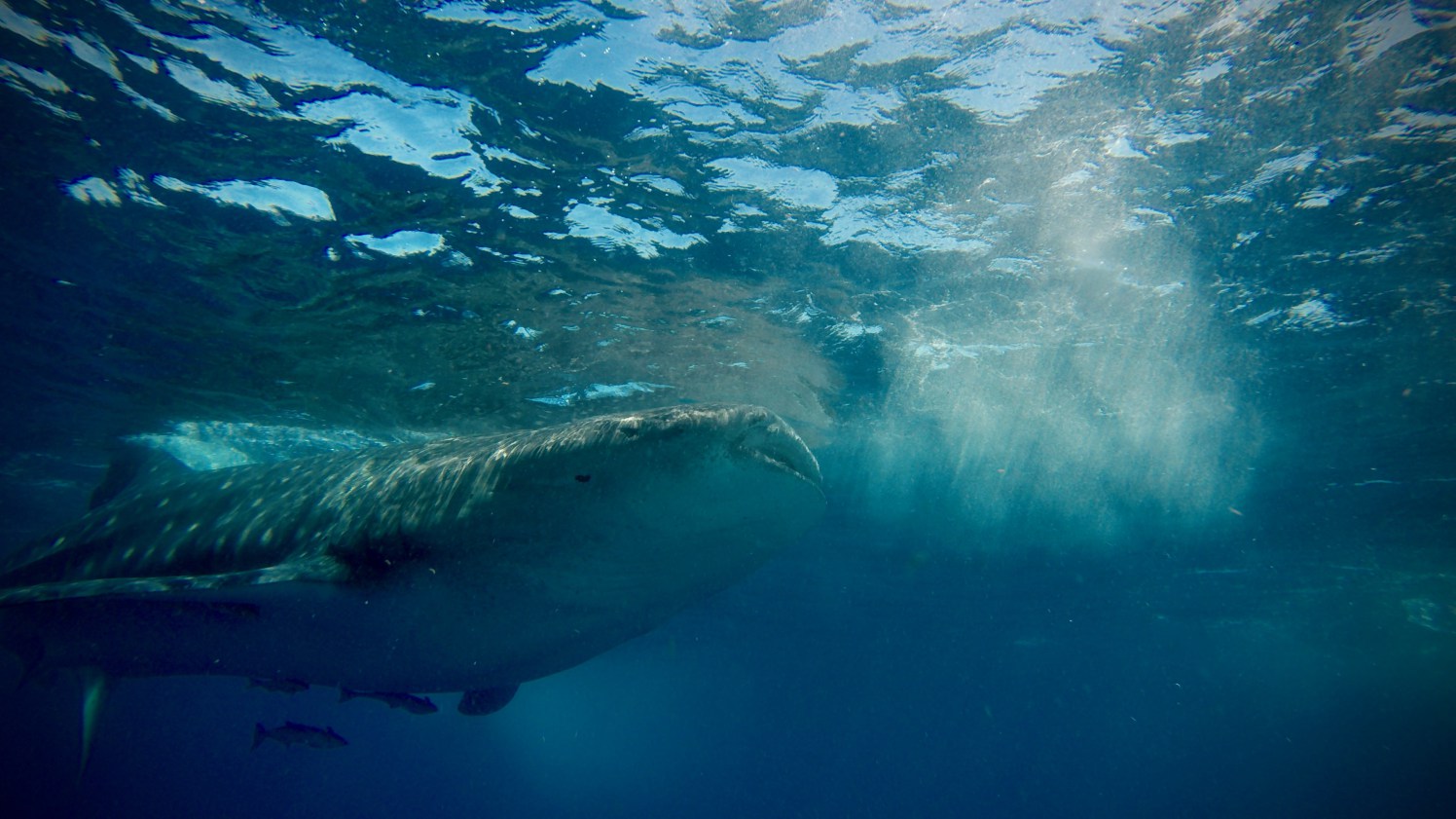 how is it possible?, this whale shark stop in 0 and start floating vertical and stayed there just for us to admire. We went around it with tears in our eyes, and hoping that this will last forever. Tomas really patiently stayed with us, but he was also amazed of how lucky we were in that moment.
Finally the big Whale Shark moved, we start to following, but it went way to fast for us… It was time to take our heads out of the water.  When we were with our heads out, we just couldn't understand, believe or even say a single word, my wife and I looked at each other and smile, my wife got close to me and grab my hand really really hard, and smile, Tomas got close to us and said… "so… How was it?" we couldn't´ speak we were amazed and suddenly my wife shout out, "It was the best experience that I´ve ever had", she hold me, really hard even though that we were still floating, lol, but yes, the experience was more than we could expect, but the best thing was that we still had 4 or 5 jumps more with these amazing creatures, after all our excursion was a private group excursion, but the boat that came with us they jump twice and then I think they had a private snorkeling tour in Isla mujeres, so either way on private or group experience is just amazing.
We got back to the boat, the crew and Mac our guide help us to get back on the boat and prepared us to jump couple of more times, each time that we jumped got better and better. This is just a changing life experience, being so close of these animals is great, and unbelievable, around 1.5 hours after we arrived to the biosphere was time to get back to the port. But before we went to take a chill snorkel in the reef of Isla mujeres, where we saw a lot of colorful Caribbean fish and when we came back the captain took us to a beach there in Isla Mujeres, where he prepared a Ceviche for us.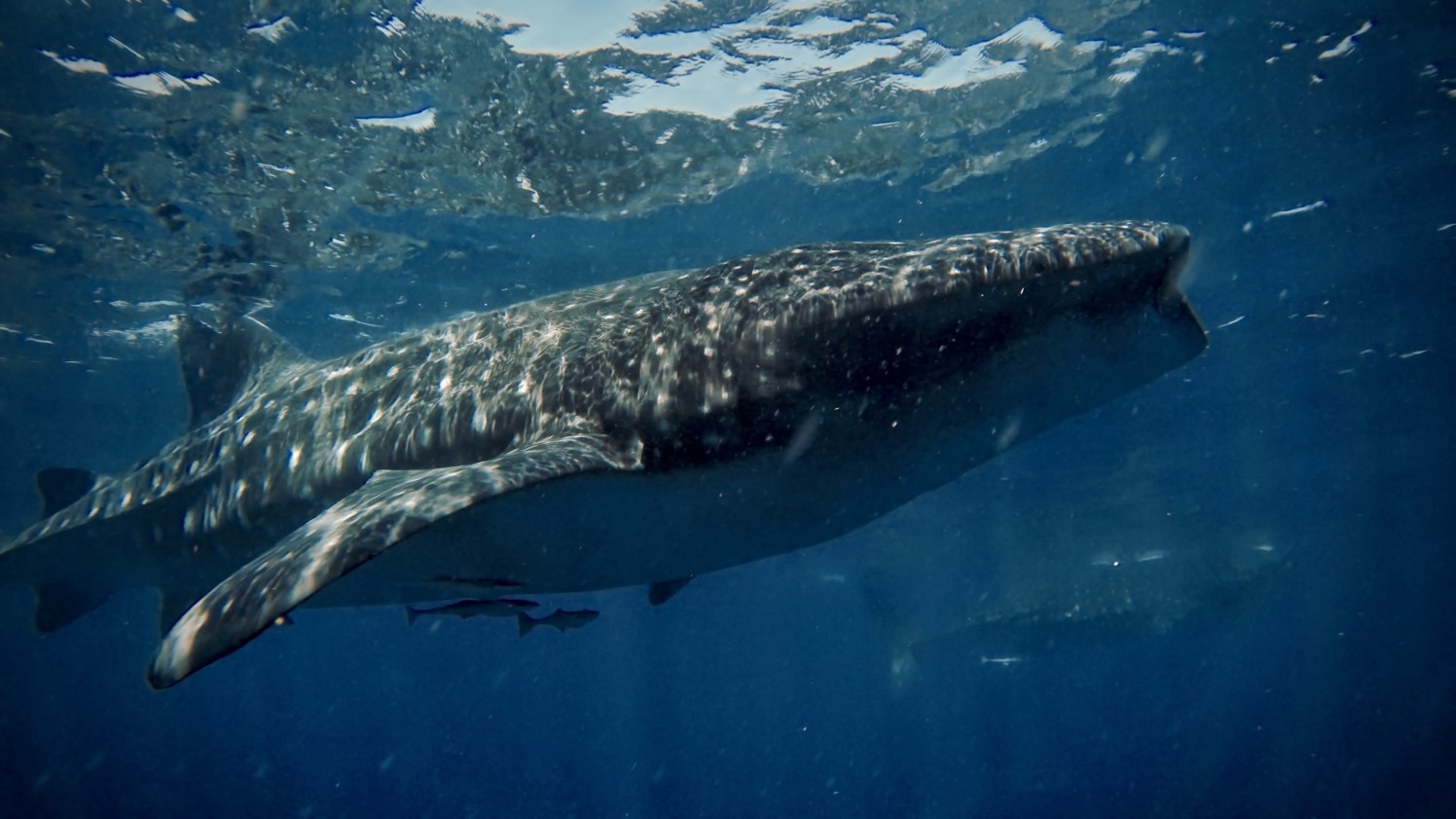 The adventure of the life time, thanks so much Riviera Maya Tourquoise and it´s Staff Tomy and Mac. You guys are great, and I will totally get back next season to do it again with my wife.
Thank you for making us feel welcome.
Mike Cox
San Francisco California, U.S.
—Riviera Maya Tourquoise —-
Reserve your spot for either Private or normal tour per person in
Or Write us at: tourquoiseriviera@gmail.com