International shipping requires detailed planning and complex logistics. Road freight works well in domestic and short-distance international. However, for overseas shipping, air freight and sea freight are the only viable options.
These services are provided by freight forwarding companies. UK-based business owners might be wondering which type of freight forwarding they should choose. The answer requires some nuance and will depend on several different factors.
In this article, we'll talk about how air freight and sea freight work and highlight the notable difference between the two.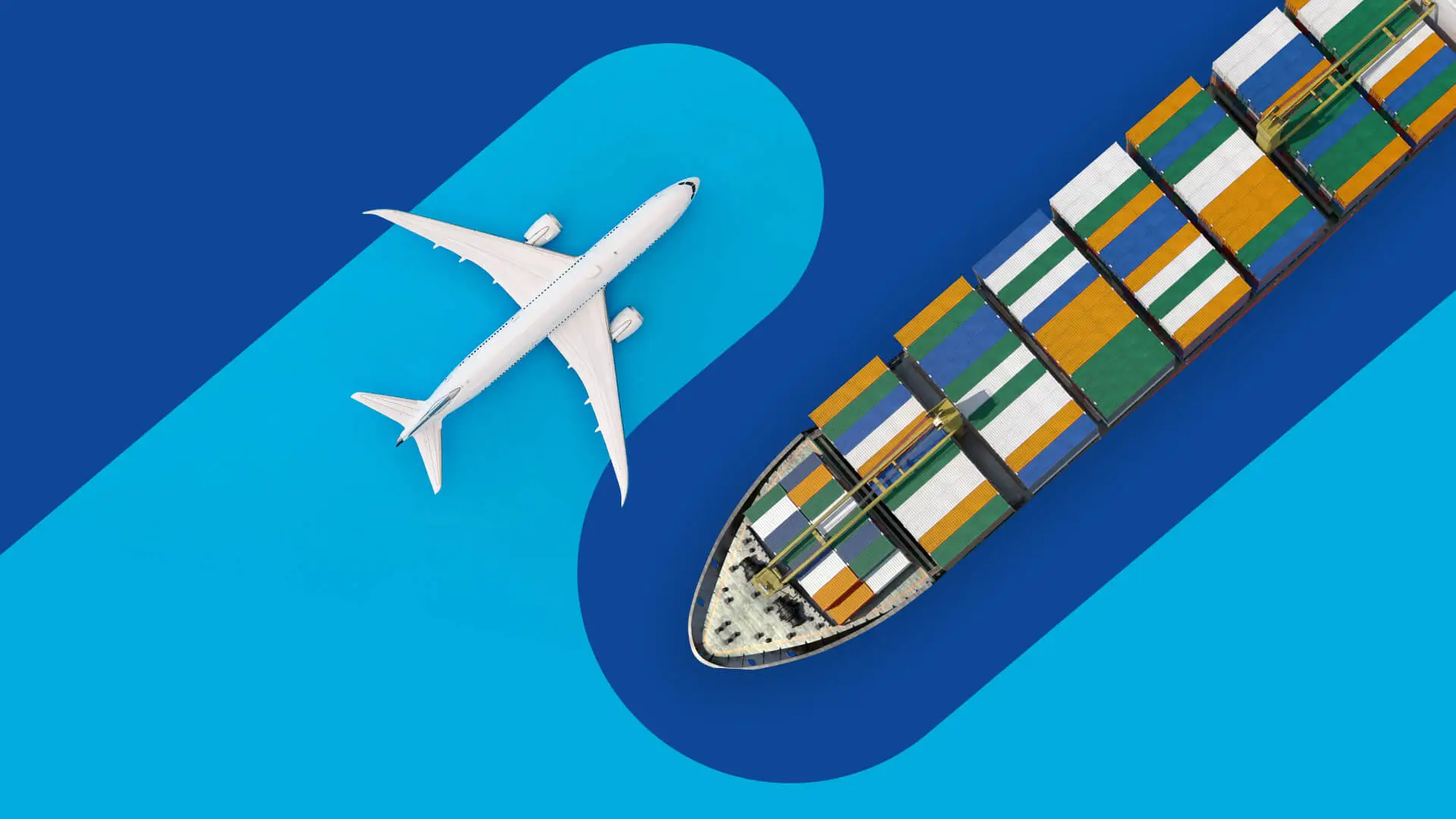 Air Freight and Sea Freight: Similarities and Differences
Air freight and sea freight have a common goal – to move cargo from point A to point B successfully. The one clear difference being that air freight relies on aircraft, and sea freight utilises carrier ships.
But it's important to point out that many freight forwarding companies often have to plan cargo shipping using more than one type of vessel.
Therefore, when the final destination for a specific sea shipment is a location without a port, the journey's final stretch usually entails air freight.
However, keep in mind that there are thousands of seaports worldwide, with over 800 of them covering 99% of international trade.
Air Freight vs. Sea Freight: Factors to Consider
Whether your business will benefit from air or sea freight will depend on the circumstances. Mostly the nature and size of your business will dictate what you'll ask from freight forwarding companies. UK-based freight forwarders typically offer both types of services and will help you decide what works best for you. Here are the most critical factors to consider.
Distance
We've already touched on this factor earlier, but let's clarify it further. Ideally, air freight is used for international city-to-city transport where routes are direct.
For example, this is a common method of shipping for retail companies where there's a lot of frequent movement. Naturally, sea, or ocean freight, works better for great distances spanning several oceans.
Type of Cargo
An incredibly important factor when considering which type of vessel to use for the shipment is the type of cargo. Air freight has more limitations than sea freight. For unitised cargo, air freight is a great solution, but there are exceptions.
On the other hand, sea freight holds a significant advantage over air freight in cargo versatility. Sea carriers accept all types of containers and goods and are particularly useful when moving heavy equipment.
Time
Time sensitivity is another significant factor in freight forwarding. Not all shipments have short deadlines, and when that's the case, often sea freight is a better option. For quick transit, though, air freight is a sounder solution.
Also, even when the shipping process involves several aircraft, the cargo usually arrives much faster than it would via sea. When time is not the top priority, and you have a great volume of goods to transport, sea freight is typically the go-to option.
Cost
Let's face it, pricing is going to impact the decision-making process. Due to its expedience and convenience, air freight is considerably more expensive than sea freight.
The price difference also covers the higher fuel consumption and general operating expenses associated with an aircraft.
For small to medium-sized businesses, sea freight is a much more affordable solution. Often, combining sea freight with road and train freight saves even more in the long run.
Safety
A major concern for many clients of freight forwarding companies is whether their cargo will be safe. Since air freight requires minimal handling, it's often a better option for more fragile cargo.
Furthermore, air shipping entails better-imposed regulations in terms of storage and handling. That doesn't mean sea freight is not safe, but there is a higher probability of damage due to the sheer volume of cargo. Plus, port congestion and other associated delays are more likely with sea freight.
Air Freight vs. Sea Freight: Who Wins?
In the end, it's unnecessary to declare a winner in this duel, as there isn't a real competition. Air freight and sea freight co-exist successfully, and each has a purpose in the world of commerce.
The only challenge is determining the optimal solution for you. A successful freight forwarding company such as GenX Freight can help you make the right decision to plan your next cargo shipment in detail.