Bangkok is not only one of the best places to live in, but it also a home to some of the best international schools in South – East Asia. Here are the Top 5 International Schools in Bangkok to consider whenever you want the best education for your child
Up to the present, there is really a gray line on the formal and exact definition of an international school. Keep in mind that the term international school is being used to describe an educational institution that offers an international curriculum (mostly British or American) and which is really different from the local teaching methods. Most of these institutions are internationally accredited by world renowned accrediting agencies and serves as an academic home primarily for foreigners in the area though a few locals are also accepted as long as they are qualified to be admitted. And lastly, there must always be a good number of foreign educators teaching in the institution.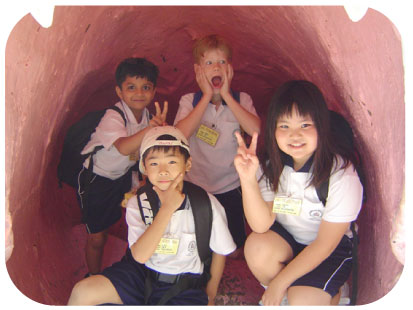 Check out these top 5 international school in Bangkok today:
1.RC International School
Ruam Rudee Learning Center or RC International School can be found at the heart of the great city of Bangkok. It is known for offering British curriculum to its students based on tested and approved modern teaching methodologies. Aside from the international style of education that it implements, individual attention to students is the core of their service, which is translated to their class sizes that does not exceed 25 students per class, giving the teachers an uncompromised and focused attention to the students and facilitating early intervention when the need arises.
2.NIST International School
The NIST International School is the first International Baccalaureate (IB) world school in the whole of Thailand.  As an educational institution with international distinction, it focuses it vision on empowering its students to achieve excellence which is vital in the quest of enriching their lives. This institution spouses collaborative learning techniques which is believed to be the key to a successful teaching and learning experience for the students.
3.The British School of Bangkok
A bit distanced from the bustling areas of the highly urbanized city of Bangkok, the British School of Bangkok is located in Sukhumvit Soi 4 where the peaceful and relaxing environment helps the students to be focused more on their studies. To guarantee their promise of providing an exceptional quality of learning, this institution is home for the most distinguished and competent educators available in the academe.
With the help of modern teaching methods and techniques, they envision their students to be equipped with complete self-confidence to face the real world outside the academe as they develop the educational, social and creative skills of every student. They are known for full utilization of the English language as the medium of instructions except in foreign languages courses or subjects.
4.Australian International School of Bangkok
The Australian International School of Bangkok centers its educational service on high quality and child-focused type of teaching. In the midst of the very busy area of Sukhumvit in the city of Bangkok, this educational institution serves as the cradle of knowledge that is of international excellence where students experience confidence and joy in the learning process. This involves an exceptional learning facilities for students to experience and having competent native English educators that demonstrates only the highest teaching standards. They are fully assisted by a good number of teaching assistants and aid to ensure the effective delivery of an international level of learning experience.
They are implementing the Australian National Curriculum in their classes which features a combination of balanced direct teaching methodology and a solid co-curricular program spread throughout the academic year.
5.Anglo Singapore International School
Closing our list is the Anglo Singapore International School which is determined to inspire its student and nurture them with a diverse learning orientation that gives them the tag "Anglo". As this international school continues its quest for academic excellence for its students while inculcating to them the modern applications of information technology, blending it with the student's creativity, they envision a community of learners that are capable of reaching their full potentials in facing the real world and the challenges that it brings. Not just focusing entirely on international standards of education, the institution is also prioritizing their mission of having a shared values and characters that revolve around being diligent, respectful, responsible and advancement of the students.