Arkansas is a Southern state that borders the Mississippi river. This state has many gorgeous rivers and lakes to explore, like the Arkansas River, the White River, and many more. The terrain is a beautiful mix of the highlands, located in the northwest, and the lowlands, in the southeast.
The temperature is Arkansas couldn't be better. The summers are nice and warm, perfect to take a dip in the many local swim holes, and the winters are a nice, even cool temperature. Ideal temperatures for all times of year! Most people take their adventurous trips to Arkansas in the spring or fall because the weather is the best around this time.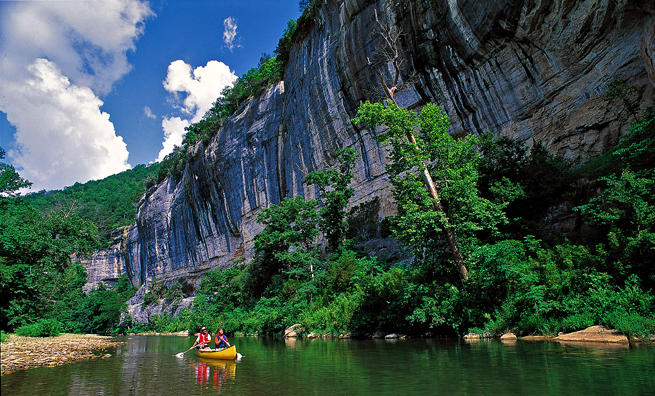 Below are five awesome places to hike/camp in the beautiful state of Arkansas:
Daisy State Park
This is a beautiful park located in southwest Arkansas, directly at the foothills of the Little Missouri River and the Ouachita Mountain. The campers have an excellent hiking trail along the Daisy Creek Trail and can afterwards cool off with some relaxing kayaking along Lake Greeson. There is a playground on site, many hiking trails, and places to fish. Camping at this location costs just $10 per day! There is a primitive campground only. It rains a lot in the summer be sure to bring a hammock or waterproof tent for sleeping.
Catherine's Landing
Catherine's Landing is located in the southeast Hot Springs. This is the ideal camping spot for zenful relaxation or really experience nature with "yurts" for rent (they are climate controlled!). A yurt is a tent-cabin hybrid that s comfortable while still giving the camper a feeling of actually being in nature. RVC resort cottages are also available, along with RV sites. To camp here costs at $35 per day for an ocean-front campsite and $55 a day for a four person yurt.
Ouachita National Forest
Ouachita National Forest is located more west than the previous locations. Available are several hiking trails, different camping level experiences, swimming, and sightseeing activities. A popular hiking trail in this area is the Blakely Mountain Trail. On average, camping at this location costs about $10 per day.
 Mt. Magazine State Park
This location is directly north of the Ouachitas. You can camp more primitively or rent a deluxe cabin for the luxury experience. Camping sites are available on location and in the surrounding area, one place being Cove Lake. Activities at this state park range from horseback riding all the way to rock climbing! Camping here start at around $25 per day.
 Mt. Nebo State Park
This park is east of Mt. Magazine. It is located in Dardanelle, overlooking the beautiful Arkansas River. The park has a total of 34 campsites, ten of those being "hike-in". There are also comfortable stone cabins available to rent. Visitors can hike around the 14 mile trails, hang glide, or even go mountain biking! The park offers a tennis court, playgrounds, and a swimming pool. The regular camping fee is $10 per day.
What are you waiting for? Come down to beautiful Arkansas where the hiking trails are plentiful and amazing!