In the past 10 years, Bali has fast become one of the most popular holiday destinations in the world. With its tropical climate, beautiful beaches, world class surf spots, and friendly culture, it has experienced extreme growth in this time with many high-end hotels, restaurants, bars, and clubs setting up home on the Island of Gods. In this time it has also seen more than ten thousand designer villas built – which is more than one thousand per year – as this has become the favourite type of accommodation for holidayers, honeymooners, and families visiting Bali.
So what's all the fuss about? What are the advantages of staying in a villa in Bali instead of staying in a hotel?
Private Pool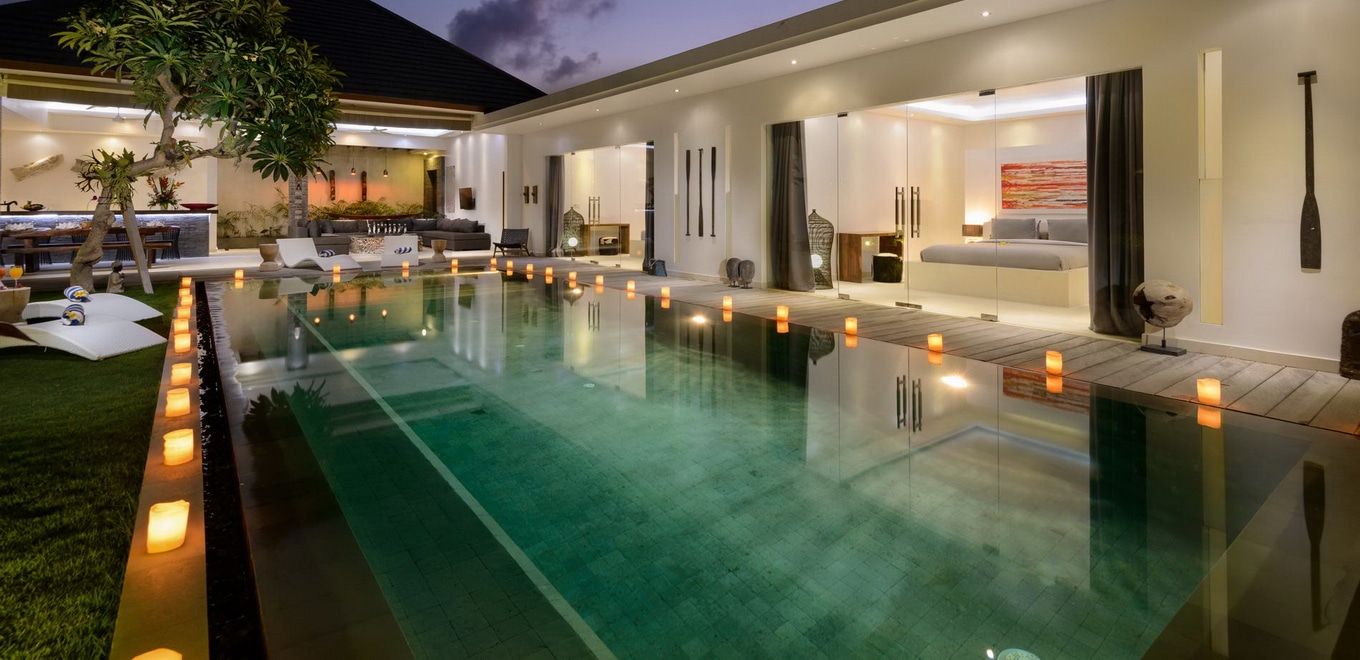 Almost all villas in Bali have their own private outdoor swimming pool, and some are truly stunning pools. You and your group can choose to have a swim before breakfast, or relax poolside during the afternoon, or even swim under the stars at night – you will be able to use your own private pool to your own leisure which isn't something you can expect when staying in a hotel.
Personal Service Staff
When staying at a luxury Bali holiday villa like this one you can expect to have your own personal chef, gardener, and security guard throughout your entire stay. Each morning, the cook will prepare breakfast to your own order. And by staying in a villa you will also have access to your own driver to take you around the island so you'll never be left waiting for a Bali taxi to collect you.
Big Rooms and Grounds
The villas built in Bali tend to be extremely spacious with large grand living areas and big bedrooms and bathrooms. The garden and pool area can also be really spacious, which is great if you're in a large group or with children who would like to run around. These villas are a home away from home, so you should feel comfortable enough to stay in it for your entire trip if you wish. They are, after all, privately owned, and designed to be homely.
So if holidaying in luxury is what you are after then booking a large spacious luxury villa with private pool and personal chef and driver is a much better option that staying in an expensive hotel room. Bali is an ideal destination for all types of traveller; whether it's a romantic honeymoon or wedding, or a large group trip or family holiday, and booking private villas is made easy with a reputable business such as www.asiaholidayretreats.com who will help you every step of the way and organise any extras required, such as pool guards for child safety or additional beds for extra guests.