Tagaytay is a must-visit destination in the Philippines because of its cool climate, scenic views, and diverse range of activities and attractions. The town is nestled in the mountains and overlooks Taal Lake and Volcano, which provide stunning backdrops for outdoor activities such as hiking, ziplining, and horseback riding. Visitors can also explore museums, parks, and amusement parks, as well as indulge in delicious local cuisine and coffee. The town is also known for its relaxing and laid-back atmosphere, making it an ideal destination for those who want to escape the hustle and bustle of city life and enjoy a peaceful and scenic vacation.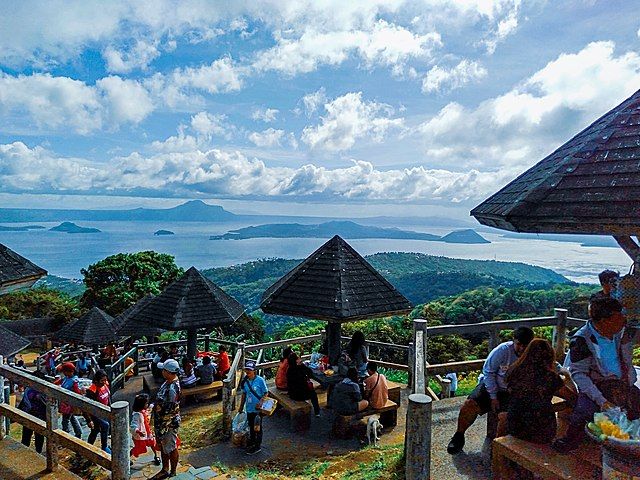 Tagaytay is a popular tourist destination in the Philippines known for its cool climate, scenic views, and delicious food. Here are some must-visit tourist Spots in Tagaytay:
Taal Volcano – This is the main attraction in Tagaytay. You can take a boat ride to the island and hike up to the crater lake to see the stunning views.
Picnic Grove – This is a great place for families to enjoy a picnic while taking in the beautiful views of Taal Lake. There are also zipline and horseback riding activities available.
Sky Ranch – This amusement park has various rides and attractions, including the Sky Eye Ferris wheel, which offers a panoramic view of Taal Lake.
People's Park in the Sky – This historical park sits on top of Mount Sungay and offers stunning views of the surrounding area. It was originally built as a mansion for former President Marcos but was never completed.
Tagaytay Ridge Zipline and Cable Car – This attraction lets you soar above the treetops and take in the breathtaking views of Taal Lake and the surrounding mountains.
Museo Orlina – This museum showcases the works of the renowned Filipino glass sculptor Ramon Orlina. It also has a beautiful garden and a café with a great view of Taal Lake.
Puzzle Mansion – This museum holds the Guinness World Record for the largest collection of jigsaw puzzles. Visitors can see over 1,000 puzzles on display and even attempt to solve some of them.
Bag of Beans – This café is known for its delicious coffee and pastries. It also has a beautiful garden where you can relax and enjoy the cool Tagaytay weather.
Antonio's Restaurant – This fine-dining restaurant serves delicious Filipino and international cuisine in a beautiful garden setting. It is perfect for a romantic dinner or special occasion.
Sonya's Garden – This bed and breakfast is known for its beautiful garden, delicious organic food, and relaxing spa services. It is a great place to unwind and enjoy the cool Tagaytay weather.