If paradise exists on Earth,then Honoloulu must come pretty close with it's breathtaking scenery and a combination of mountains and golden beaches. It is not surprise that it has become a popular tourist destination among those who are looking for a break in the sunshine. There are plenty of things to see and do in and around the city.
Let's take a look at some of the most popular activities in Honoloulu for tourists to enjoy.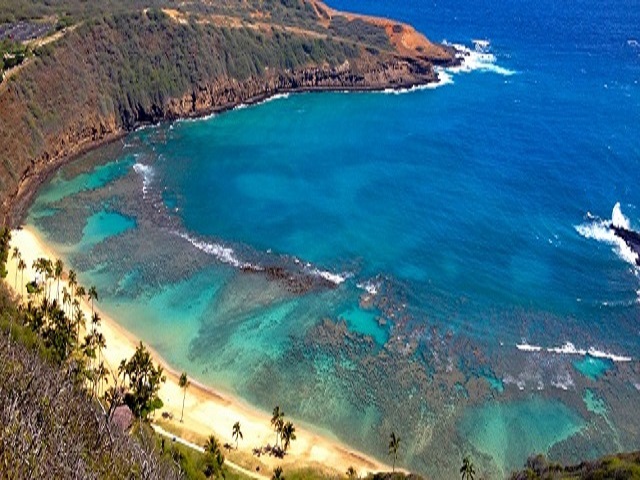 Diamond Head
If you want a panoramic view of Honolulu then your best option is hiking up Diamond Head. The iconic extinct volcano is on the Eastern side of Waikiki and is often spotted in the background of postcards and holiday snaps. The crater was once a military base, but is now open to the public and there are several hiking routes to choose from. It takes roughly half an hour to reach the summit.
Hanauma Bay
One of the most beautiful spots to visit is the nature reserve and marine sanctuary Hanauma Bay. The bay features golden beaches and cool clear waters and it is accessible via a 5 minute hike to the bottom of the volcanic crater where it is located. It is a popular spot for scuba diving and snorkeling and is great for beginners since access is from the shore only. As boats are forbidden in the bay. Access is restricted to certain times and numbers, so you will get a great chance to get close the the fish and other creatures on the reef who are very friendly!
Manoa Falls
If hiking is your thing then a trip to Manoa Falls is definitely something to add to your itinerary. It's not a particularly challenging walk – taking just 20 minutes, but it winds through a lush tropical forest and ends at a stunning waterfall. It is a great chance to see some of the stunning plant life that Hawaii has to offer. Many people do take a dip in the pool at the bottom of the falls, but be warned there are signs requesting caution due to falling rocks from the waterfall.
Chinatown
If you have ever been to a Chinatown then you will know that they usually make for a bustling and colorful part of town. Honolulu Chinatown is no different. It may be small, but it is still a vibrant hub of activity with a busy market and some wonderful restaurants bringing the sights and smells of China to the islands!
Honolulu Zoo & Waikiki Aquarium
Honolulu Zoo is a fairly large park spread over 42 acres. It houses more than 900 different species including the star attraction – a komodo dragon. The zoo park is set in lush tropical gardens giving visitors the chance to see some beautiful flora and fauna while they are there. The zoo is just minutes from Wakiki Aquarium which is fairly small, but still has plenty to see. Without a doubt, when you visit the aquarium you will want to see them in their natural habitat with a scuba dive!
Pearl Harbor
It seems wrong to refer to Pearl Harbor and the USS Hornet as a tourist attraction. It is so much more than that. The tragedy was what prompted the USA to enter into World War II after countless ships and more importantly lives were lost. Today, Pearl Harbor stands as a memorial to those people. On entry to the area visitors are issued with a time to go and watch a 30 minute film about Pearl Harbour before being taken by Ferry out to the USS Memorial – a platform that floats above the wreck – to pay their respects. Visitors can also visit the USS Bowfin Submarine Museum.