Everest Region is a popular trekking destination in Nepal. Hundreds of people trek to Everest and back successfully. Due to the commercialization much facilities have been provided making the treks easier. In this, people tend to forget how unforgiving mountains can be, that it is not a walk in the park and that much needs to be planned ahead. Here are 5 tips that can help you plan your trek to Everest Base Camp no matter which package you choose.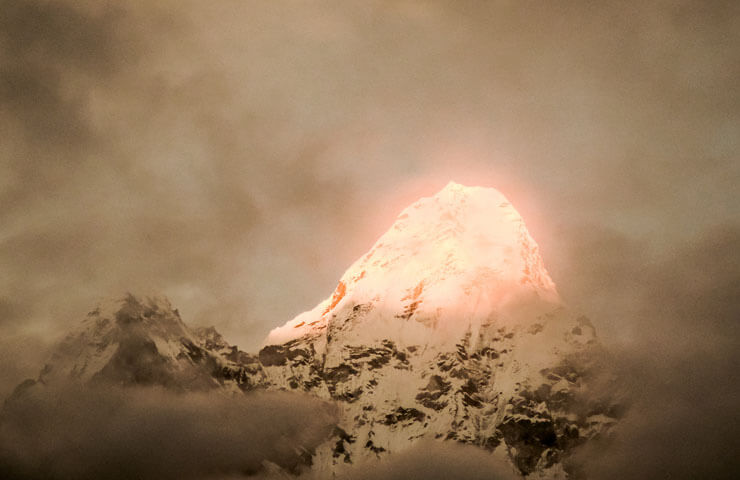 1.   Contingency Days:
It is very important to add an extra day or two to you plans. There are number of reasons for this.
First, the flight from Lukla to Kathmandu and back is not reliable as in it can be canceled anytime. A little inconsistency in the weather and the plane will not take off which means one more day in Lukla or Kathmandu. It can, at times, be more than a day.
Second reason is acclimatization. Sometimes people need more time to acclimatize than they had previously planned, eating up a day from your itinerary. Or, you may have to stop at the place you didn't plan to, again due to AMS (Acute Mountain Sickness).
Another reason is the great side trips. If you are doing Everest Base Camp (EBC) trekking then maybe you took the straight route and missed the Gokyo or other great spots in the Everest Region that does not follow the main path. "Since I am already up here", you might think. So plan in extra days.
2.   Stop at Dingboche
If you are wondering whether to stop at Dingboche or Pheriche, then stop at Dingboche. Compared to Pheriche, Dingboche offers a better view of the Peaks and just a little bit easier path. But then, it depends on your destination. For EBC, Dingboche is a better stop. Check the trekking company itineraries to see where which package has stopped at.
3.   Essentials
Trekking gears are a given. You can buy most of it in Kathmandu. However, unless your guide swears on his life, it is probably a rip off of the original brand and therefore not as reliable. It can hold for one trip though. If you want real quality products, bring from home.
If you are not an avid trekker and do not want to invest on what might later sit useless in the cupboard, then just rent it. You can rent the expensive ones instead of buying it. First, if you are travelling with an agency, see what gears they lend.
Bring from home a good quality trekking shoes and break them in before heading out to Everest. Also, buy thin liner socks to prevent blisters. It is important when you will be hiking 4-7 hours every day for 2 weeks.
Bring Cash. Most shops accept cash only and have no systems to read cards. There are ATMs to draw money from, even up in the Everest, so it will not be a problem but do not rely on your cards to pay.
Other unconventional essentials are snacks and a pee bottle. I am not a psychologist but believe me, snacks you like are good for your mental strength. After a while in the hills, every dish seems like a repetition or a cousin of what you had yesterday. Snacks are a good break from it and also fights the occasional "I am tired of this remoteness" feel. Pee bottles are for when nature calls in the middle of night. You will have to come out of the warm bed and "dress up" for the toilet that is probably outside. So use a bottle, a colored bottle is a good idea. For women, you can buy a She Wee rubber spout.
4.   Insurance
I cannot stress the importance of an insurance. High up in the Everest, your only hope is helicopter evacuation. If you do not have an insurance for it you will have to pay about $10,000 in the spot. That is a lot of hassle you have to go through- call home, ask for transfer and all the process while you are probably dying. So get an insurance but read the fine print and make sure it covers
Trekking
Over 5000-6000m height (a little over the height you will be trekking)
5.   Partner Up
I am not saying you must hire a guide which is a really good idea, but do not trek alone. Many solo trekkers have gone missing or become a victim to crimes. The routes of Everest are pretty much etched out for you but, as said earlier, all the apparent ease can make you forget the dangers of where you are.  Even if you are not going to fall victim to avalanche or criminals, a partner can be a support in many ways and can add to your experience.
There can be a number of other suggestions. However, the last thing I'd like to say is that "You are there to have fun so do not forget to enjoy."