Koh Rong Samloem & Koh Rong Islands are Cambodia's top spots for flashpackers, backpackers, independent travelers and the like, they boast stunning beaches of powder white sand and the type of delightfully clear blue water that you would expect to adorn many a film backdrop.
So which one should you head to? The answer is probably both, although Koh Rong has got busier and more commercialized and does have its issues with violent sand flies and some sporadic crime, it is still a backpackers favorite., where as Koh Rong Samloem is still in the whole a more authentic Cambodian island destination, both of them offer different enough experiences and you should really do both if you have the time.
Koh Rong Samloem, which is perfect for diving and snorkeling, should be your first port of call, and to get there you have to take a boat ride from the port of Sihanoukville, tickets to backpacker resorts and speedboat tickets are available from Reef Resort located on Serendipity beach road in Sihanoukville.
Once on the island, you will find the beach tree house at Saracen bay is an ideal vantage point to gaze over the shallow beach lagoon, and enjoy crab watching and be amazed at the beautiful Mont Chameau at a distance.
There are three flashpacker / backpacker destinations that offer great service and superb accommodation available on the island.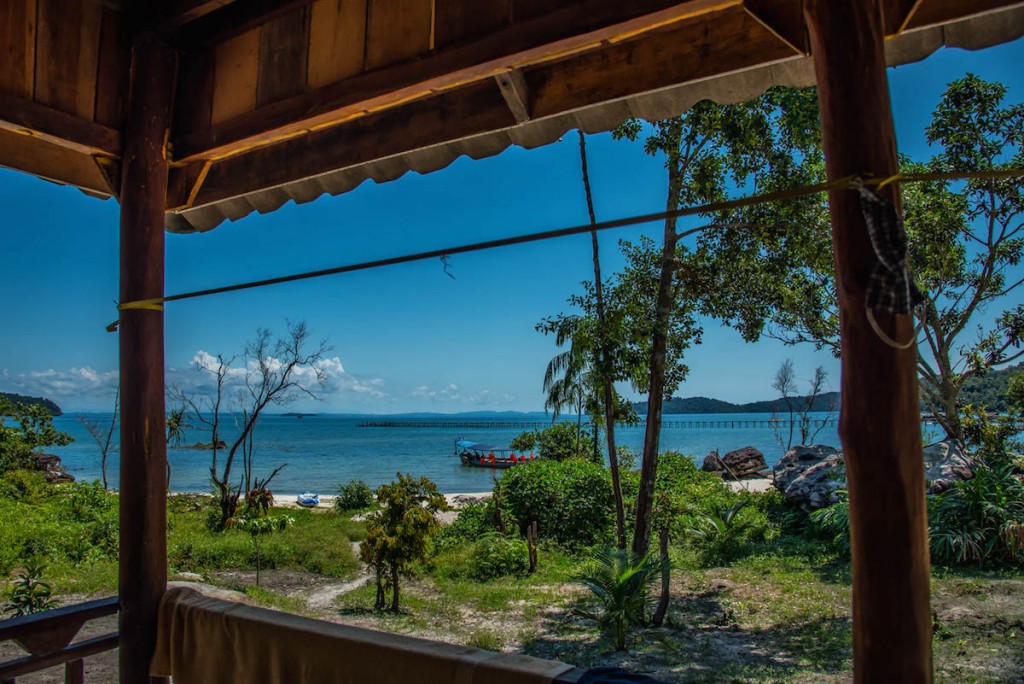 1. Mad Monkey Hostel Koh Rong Samloem-A new private resort from the famous Mad Monkey Hostels that have been serving backpackers and flashpackers from all over the world.
Having recently stayed there I can say it would be my premier choice for adventurous travelers who want to party with other backpackers and enjoy good food.  The Mad Monkey really has everything you need to have a near perfect experience on the Island, and because its new you can count on a comfortable stay in new snazzy bungalows that have not yet stood the test of time of the Cambodian low seasons weather.
Around the hostel there is verdant jungle for you to enjoy trekking, enjoy bird watching or searching out the rare animals native to the island.
Upon arrival you board a long tail boat with your fellow flashpackers for a quick 10 minute trip around the bay, when you arrive you are greeted by en-suite bungalows that overlook the beach. Rooms in the dorm and bungalows are super clean.
You can socialize with fellow flashpackers at the social area and bar or join the funky events. The staff is helpful and super accommodating. Amenities and services include 24 hour reception, BBQ area, access to the beach, guest laundry, tour desk, non-smoking rooms, bar and lounge.  Really its something else and should be the number one on your hit list, although availability is highly limited, meaning you will need to book weeks in advance, sorry! Due to this constraint you may also wish to consider the Secret Paradise Resort.
Find the Mad Monkey Koh Rong Samloem at www.madmonkeyhostels.com/kohrongsamloem
The name Secret Paradise truly describes the personality of this resort located on Saracen Bay in Koh Rong Samloem. Guests and are satisfied with its services such as room service, beach access, restaurant, bar and lounge.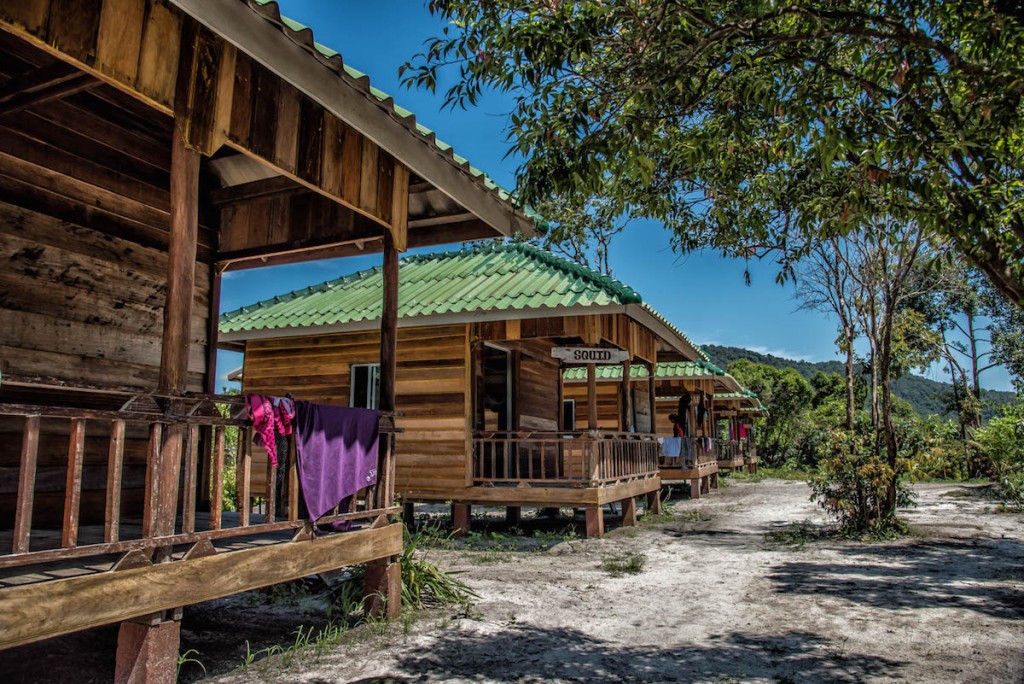 The resort's non-smoking rooms are well maintained to make your stay comfortable and luxurious. It only has 5 spacious rooms. It has deluxe bungalows that perch on the powdery beach with verandas that overlook the sea and each one has a full en suite bathroom. We only got to look around the one bungalow as we were staying across the bay in the Mad Monkey but what we saw looked pretty sweet and certainly seemed to be a worthy of a holiday crib for a few days.
The atmosphere is so relaxing and to keep the blues away, why not sleep in the hammock, or relax in the sun chairs or swing.
3. GreenBlue Resort-This place is a perfect hideaway for honeymooners and flash-packers, it is probably out of the budget of your normal backpacker.
Things you can do at the resort include swimming, snorkeling, and water sports. There are hammocks for you to relax in. If you get tired after your activities, you can have a massage at the spa or drink beer at the bar. The food is great, we ate lunch there and it was pretty spectacular.
Guests love to stay here as they can have a great view of the sea from their room's balconies. Each bungalow has its own balcony to make sure that everyone can enjoy watching the waves.
Grab your camera and take a snapshot of the rising sun right from the balcony. The resort has a total of eight clean rooms with comfortable beds and bathrooms. Some bungalows have double bed with a patio and balcony.
When you have completed your stay for a few days its time to head to Koh Rong. Do not make the mistake of heading back over to the mainland only to pay another $20 in transfer fees, simply ask your hostel about the supply boat transfer that leaves the island of Koh Rong to Koh Rong Samloem every day at around 4pm, its $5 compared to the $15 – $35 fee charged from the mainland.
Koh Rong
We stayed at Monkey Island on Koh Rong, the facilities here are great and we should point out that although its in now way affiliated with The Mad Monkey that they do offer the same type of awesome service and facilities as their island neighbor's.
We stayed for six nights with 4 in our Bungalow for $30 a night, the beach on this resort is clean, although some of the beaches around the resorts obviously do not pay the same attention to cleaning the beach, which unfortunately left us viciously savaged by sand flies on more than one occasion.
Find more details on http://www.tripadvisor.com/Hotel_Review-g1808558-d2437395-Reviews-Monkey_Island-Koh_Rong_Koh_Kong_Province.html
What does differ on Koh Rong is the nightlife, again it's a party place with a number of diverse hole in the wall drinking establishments, bars and restaurants dotted up and down the beach. Whilst possibly not as dreamy as Koh Rong Samloem it still provided an amazing beach, that even though it was more crowded it did afford us the opportunity for meeting more backpackers.
So in summary, head to both, both of these amazing Monkey based resorts and these two paradise islands are enough to s