When it comes to organizing events, seminars are thought to be the easiest to set up, since these are not as intricate in terms of preparation as compared to parties and corporate events. Seminars are pretty straightforward, and all you have to do is secure everything to be used on the target event date, such as the collateral's, resource speakers, food, and venue.
Seminar venues have changed throughout the years, however unlike before when such events can be held in any kind of room or space, nowadays seminars are held in specially-designed areas. This is to ensure that the participants are able to acquire a meaningful experience in the seminar; not only did they learn from the lectures, but more importantly they had a good time all throughout.
But what should you look for in a seminar venue? If you are currently scouting for seminar room rental in Singapore, better check out what event planners search for: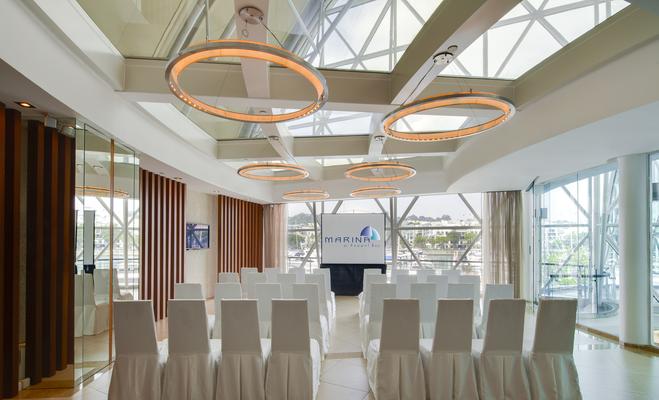 Sound-proof interiors.
Sound-proof interiors are already a necessity when it comes to seminar and training venues. This is mainly because you don't want to create a disturbance to other events while your own activity is going on. These interiors also increase the privacy of your seminar, and your participants become more at ease while listening to the lectures.
Almost all venues today, not just seminar rooms, come with sound-proof interiors. You may want to test the quality of the venue though, by doing an ocular inspection and checking whether the sounds you make inside the room can be heard outside.
Free Wi-Fi.
Having free wireless internet in the seminar venue is not a must but is a great perk. Sure, this may pose as a form of distraction to your participants, but having free Wi-Fi does have its benefits. Among many things, your guests promote your event online by posting updates on social media platforms such as Facebook and Twitter. You did not ask them to do this, but you get free, organic online publicity from your guests. This is a very good PR strategy on your end, as the next time you host a seminar, more people would be interested to attend thanks to the status updates of your previous guests.
Delicious food.
Another important element when looking for a seminar room rental in Singapore is the food. Yes, when hosting seminars, you have to feed your participants. Food doesn't have to come in a blue plate arrangement, but it must be delicious and fulfilling enough for your guests to enjoy.
Your food servings should also last throughout the seminar proper. This means you have to serve snacks in between full meals. In case your seminar only lasts for one day, you must prepare a menu consisting of morning and afternoon snacks, and a full lunch.
Free-flowing coffee.
Lastly, if you are going to host a seminar, it is a must that the venue you choose offers free-flowing coffee, in addition to drinking water. This is because you would want your guests to stay awake throughout the seminar, and it is inevitable that they feel sleepy in the middle of the lecture. Most of your participants would stand up and look for something to drink, and if you don't have a refreshment area readily available, they would have to go out and buy somewhere else.
Free-flowing coffee is usually part of seminar room rental packages, but there are also venues that do not include it in the total rental cost. Investing on unlimited coffee does pay off, especially when you see that your participants are alive, alert and enthusiastic during the most boring hours of the seminar.
http://specialevents.com/blog/top-10-things-look-when-choosing-venue-your-next-corporate-event
https://whova.com/blog/things-consider-when-choosing-event-venue/